A SYMBOL OF SURVIVAL AND A VALUE OF CONTEMPORANEITY»BREAD IS ONE BIG BEHEST: TO LIVE! WISH TO OFFER IT TO ANYONE WHO KNOCKS ON MY DOOR. I WOULD CUT IT WITH THE SHARPEST KNIFE, WITH WILD DELIGHT OF LIFE THAT I WOULD DONATE ... AND EVERYONE WOULD GATHER AROUND AND EVERYONE WOULD GATHER AROUND THE TABLE AND ENJOY THE BREAD. IT WOULD BE LIKE THE SONG OF MARSYAS' FLUTE OVER INFINITE ENDING AND ETERNAL BEGINNING ...« (E. Cevc, Preproste stvari, Ljubljana 1944)
Bread is the tangibility of the repeating rhythm of life and at the same time a symbol of man's survival. Although it has been known for at least 5000 years, there are regions on our planet where bread does not play the role of an alimentary symbol or it is not known at all. Bread entered the consciousness of human culture at different periods of historical development and in different technological forms. First it probably existed in unleavened forms and only later various kinds of cereals, fruits, herbs and other ingredients came into use for leavened bread. Bread is not only the tangibility of the repeating rhythm of life but also an image of the way of life and the relationship between human everyday life and festive occasions. In many geographical environments and in different social groups, peoples and nations, bread has become a symbolic representation for food in general. It turned into a direct indication of famine or abundance. Lack of bread is still nowadays a sign for lack of food. Bread of better quality was an expression of wealth and for many poorer social groups a mostly unattainable alimentary goal. But in all social classes bread played an important role at rituals and ceremonies. Bread became one of the fundamental substances for individual beliefs and thus surpassed the motive of pure alimentary, biological survival. It is for this reason that bread entered repeating ceremonies, for instance in Christianity it is represented in the basic everyday prayer (»Give us this day our daily bread ... «). However, bread was and remained a term for biological survival – and in this context it is closely related to water. Insight into the rich legacy of bread not only reveals the great variety of ingredients, tools and technologies, ways of consuming bread and its meaning in religious consciousness and rituals, but also presents an endless source for creating new forms, which expands the perception of contemporary human being.
118 pages, hardcover, 21 x 21 cm
| | |
| --- | --- |
| | Andrej Goljat je končal Gostinsko šolo v Ljubljani leta 1968, kmalu se je kot mlad kuhar zaposlil v Švici, kjer je izpopolnjeval svoje začetno znanje. Kot vodja kuhinje je potem ustvarjal v hotelu Perla in tudi v restavraciji dvorca Zemono v Vipavi. Tri leta je nabiral kuharske izkušnje na ladji, dve leti spoznaval italijansko kuhinjo v Milanu in se spet vrnil v Slovenijo. V Servisu za protokolarne storitve Brdo pri Kranju je opravljal najzahtevnejše protokolarne in druge dogodke. Leta 1994 je pod okriljem Protokolarnega servisa Brdo ustanovil Šolo kulinaričnih umetnosti, v kateri je ponujla izobraževalne programe iz različnih področij kulinarike. Šola pa je postala njegovo samostojno podjetje leta 2002 pod imenom Kulinarika Goljat d.o.o. na novi samostojni lokaciji v Škofji Loki. Na tej lokacije je pričel pisati knjige za Založbo Kmečki glas: Čokolada, Kava, Kruh, Potice, Med, Krompir, Jedi s perutnino, Divjačina in gozdni čudeži, Slastno pecivo, Ribe in morski čudeži, Vegetarijanske jedi, Prigrizki in narezki ... |
TRADITIONAL COUNTRY BREAD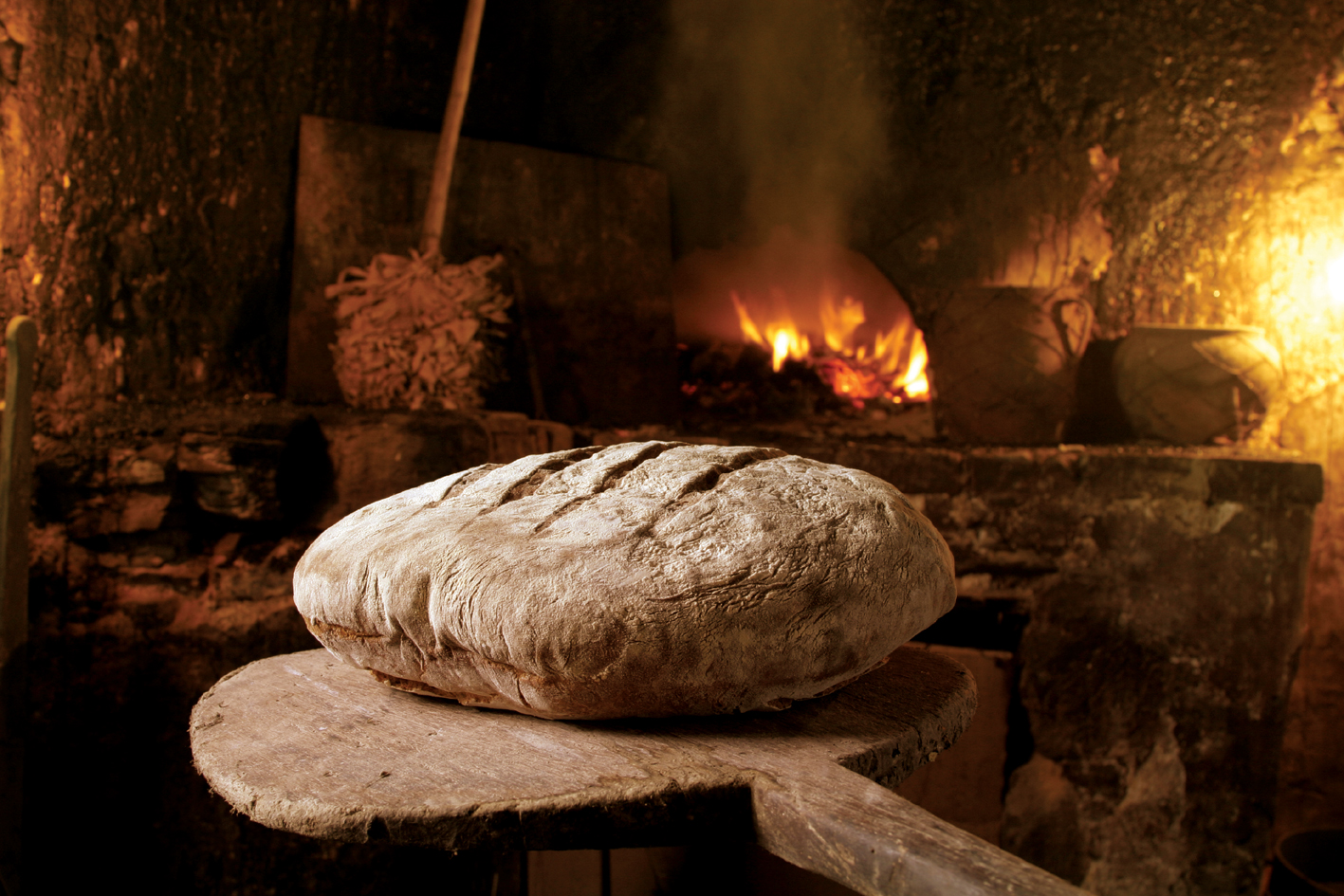 Ingridients:
1 kg bread flour
50 ml oil
40 g yeast
20 g saltapprox.
600 ml lukewarm water
10 g sugar (optional)
Leavening agent: instead of yeast we can use yeast and salt emulsion or 60 g of sourdough or 40 g of leftover dough.
Process:
Knead flour, water, salt, leavening agent and oil into moderately thick dough, let rise twice, shape, let rise again, make incisions and bake.
Kneading: direct (if indirect see instructions). Start temperature: classic oven 220°C, fan oven 200°C, gas oven level 5. Baking time: approx. 45 minutes; but only 25 minutes if dough is shaped into four loaves. Spraying hot oven with water at the beginning of baking is recommended.
CONTACTS
Založba Kmečki glas
Vurnikova ulica 2, SI-1000 LJUBLJANA
Head of Publishing House:
Head of Marketing Department: