ABOUT THE BOOK
The smell of potica, which is a Slovene festive dish, is a must for every holiday. It is a special desert, a tradition which has not died away, even in the most modern kitchens. Apart from a historic and ethnologic outline of this culinary masterpiece, this book with bilingual Slovene-English text also includes twenty-theree recipes for preparing various types of dough and hints on how to make ninety-two delicious fillings. Everything is rounded up with seventeen special poticas. For sweet fingers and captivating smelling festive warmth in every home.
LET THE SMELL OF THE WONDERFUL AND THE DELICIOUS SURROUND YOU OFTEN …
112 pages, hardcover, 21 x 21 cm
| | |
| --- | --- |
| | Andrej Goljat je končal Gostinsko šolo v Ljubljani leta 1968, kmalu se je kot mlad kuhar zaposlil v Švici, kjer je izpopolnjeval svoje začetno znanje. Kot vodja kuhinje je potem ustvarjal v hotelu Perla in tudi v restavraciji dvorca Zemono v Vipavi. Tri leta je nabiral kuharske izkušnje na ladji, dve leti spoznaval italijansko kuhinjo v Milanu in se spet vrnil v Slovenijo. V Servisu za protokolarne storitve Brdo pri Kranju je opravljal najzahtevnejše protokolarne in druge dogodke. Leta 1994 je pod okriljem Protokolarnega servisa Brdo ustanovil Šolo kulinaričnih umetnosti, v kateri je ponujla izobraževalne programe iz različnih področij kulinarike. Šola pa je postala njegovo samostojno podjetje leta 2002 pod imenom Kulinarika Goljat d.o.o. na novi samostojni lokaciji v Škofji Loki. Na tej lokacije je pričel pisati knjige za Založbo Kmečki glas: Čokolada, Kava, Kruh, Potice, Med, Krompir, Jedi s perutnino, Divjačina in gozdni čudeži, Slastno pecivo, Ribe in morski čudeži, Vegetarijanske jedi, Prigrizki in narezki ... |
FROM CONTENT
PISTACHIO NUT FILLING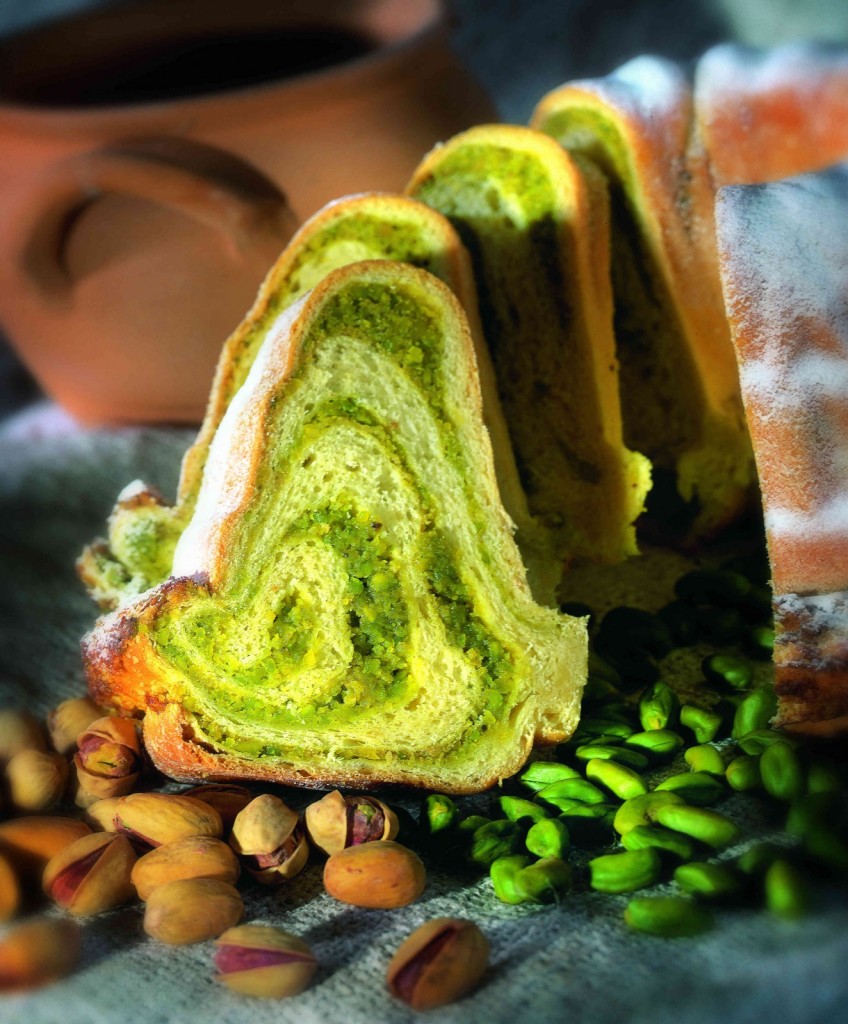 Ingredients:
400 g green not roasted pistachio nuts,
100 g biscuit crumbs,
150 g sugar,
2 eggs,
1 dl double cream,
vanilla essence,
lemon peel,
cherry liquor (kirsch)
Mix ground pistachio nuts, half of biscuit crumbs, eggs, sugar, double cream, aromas, spices and kirsch; spread on dough and sprinkle with the other half of crumbs. The temperature of the filling should be equal to that of the dough. Roll tightly. Place into a mould or pan, prick and leave to rise. Before baking, coat with a thin layer of milk and egg mixture. Make sure the holes are not stopped. White, buckwheat, maize, rye or wholegrain sweet dough can be used.
Bake time: 50 minutes.
Temperature: 190°C, 175°C (fan), level 2-3 (gas).
CONTACTS
Založba Kmečki glas
Vurnikova ulica 2, SI-1000 LJUBLJANA
Head of Publishing House:
TANJA ŽGAJNAR NOVAK, e-mail: tanja@czd-kmeckiglas.si; tel: +386 1 473 53 60
Head of Marketing Department:
ALENKA NAGLIČ, e-mail: alenka.naglic@czd-kmeckiglas.si; tel.:+386 1 473 53 88